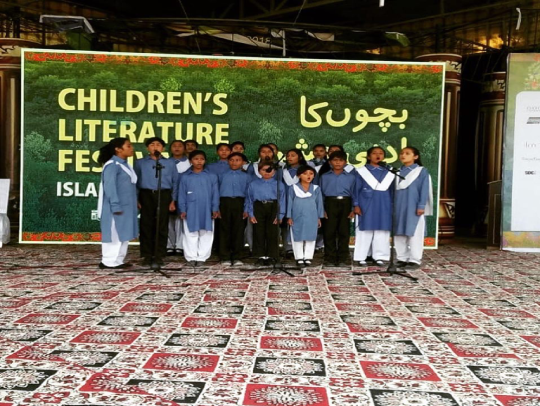 Oct 23, 2019 Admin
Pehli Kiran Schools shine at the Annual Children's Literature Festival in Islamabad
Exposure to positive role models and mainstream society. Engagement with diverse groups of children.
Pehli Kiran Schools actively participated in the Annual Children's Literature Festival (CLF), which took place in Lok Virsa, Islamabad on October 23rd and 24th, 2019. PKS students inaugurated the event by proudly singing Pakistan's National Anthem, in front of a very large gathering of children and representatives of Pakistan's education sector, including the Education Minister. They also sang the CLF theme song with joy and gusto. For two days, PKS students participated in a wide range of activities that were both fun and educational.  PKS also collaborated with The School of Writing, in the days leading up to the event, to create content for a Photography Exhibition called "Yeh Hai Islamabad" which was on display throughout the event. The 2-day event showcased documentaries, artwork by kids, talks, plays, workshops.
Pehli Kiran Schools whole-heartedly supports a 'whole child' approach in its educational philosophy and believes that such experiences and exposure helps instill confidence and build character.
Become a contributor to this great cause and donate to PK Schools.