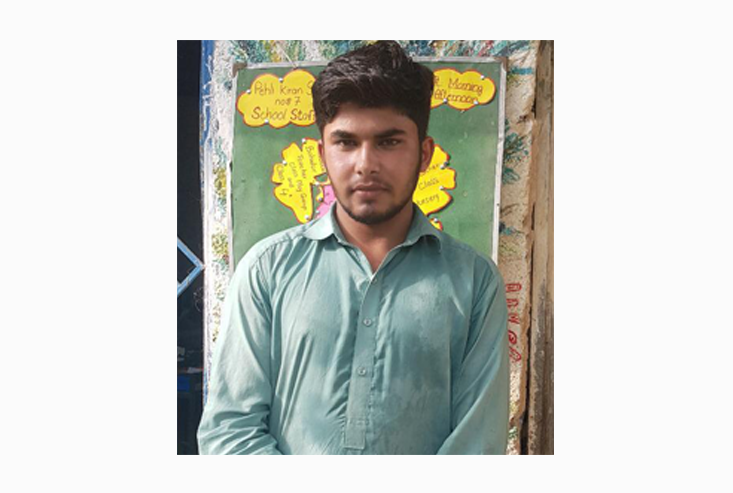 Raising the Future – Shazeer Gul from Pehli Kiran School 7
Shazeer believes his teachers at PKS are the catalysts of change and inspiration to him for the man he is now. He is raising his siblings as he wanted to be raised by his parents. A story of hope for a better tomorrow.
Shazeer Gul, young but determined with a quiet demeanor, has had to take on the role of a parental figure at 19 because his parents, due to lack of education and exposure, they were unable to give him the kind of childhood that he aspires to give to his younger siblings.His parents moved their family from Upper Dir to Islamabad when Shazeer was an infant. Shazeer doesn't remember their lives in Upper Dir, but when he visits, he is grateful for his life here. "Our family back in Dir is only focused on either acquiring land or making more money rather than educating their children and broadening their perspectives," he says, "My parents moved to Islamabad because of the lack of facilities in Dir, such as schools, hospitals, etc."
Shazeer's parents, though loving and enthusiastic about educating their children, lacked awareness about the kind of environment their children needed to thrive.Being the eldest, Shazeer is now determined to give his younger siblings a more nurturing childhood. His two younger brothers, Majid and Sajid are in grades 6 and 4 respectively while his sisters, Kainat and Kulsoom are in grades 6 and 1. They are all either current or former PK-7 students.
Shazeer realizes that as a child had it not been for his teachers, he would have been vulnerable and prone to falling into bad company as some of his peers have done so. My parents are grateful I had support from school and they have since learned a lot of things themselves. My mother now regularly checks up on the children when they come back from school.' To emulate his teachers, at home, Shazeer takes special care to spend time with his two younger siblings by helping them with their homework and playing with them.
Being the eldest, Shazeer is worried about their future, especially about how they will meet the expenses of all the children's higher education and their needs as they grow older. Though my father and I run a small shop in the neighborhood, work in the flea market too, and are meeting our family's needs, I want more for my family, especially my younger siblings. I want all of us to study further, especially my sisters.'  PKS has assured us of that support.