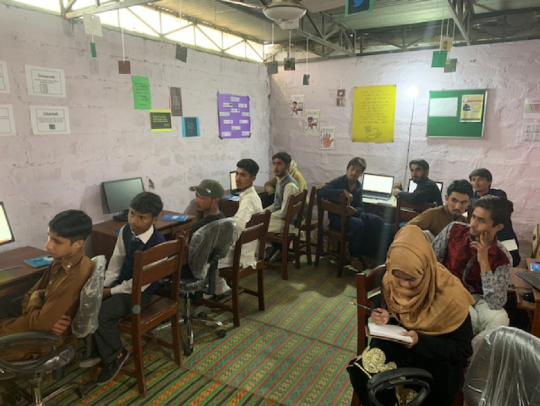 Feb 18, 2020 Admin
Computer Training Centre Launched at Pehli Kiran School 5
Acquiring computer literacy. Exposure to technology. Digital learning.
Pehli Kiran Schools (PKS) is delighted to launch its first Computer Training Center, in Pehli Kiran School 5 (PK-5). This initiative is the first step, and an important milestone towards bringing much-needed computer literacy to the youth of our excluded, marginalized communities. The event was attended by special guests, JAQ Trustees, and PKS staff and students. Seema Tauseef represented the District Commissioner's Office, which donated computers and furniture to the Centre. Trustees Tahira Abdullah and Mohsin Qazi spoke about the importance of computer literacy in an IT-dependent world. Ajab Gul and Kinza, PKS Alumni who were amongst the first to enroll in the Computer Centre, shared their excitement and thoughts at being provided such an opportunity. The Computer teacher is also a PKS Alum, having graduated with a B.Sc in Computer Science, and now working towards a master's degree.
Pehli Kiran Schools develops bridges for the marginalized, poorest, and forgotten children, and considers the wide gap in computer literacy a hindrance to advancing in society. Addressing this issue helps these children as computers are fast becoming an important part of almost every job.
Please consider donating to PK-5 to support the school and the Computer Centre.